Pitching Probables: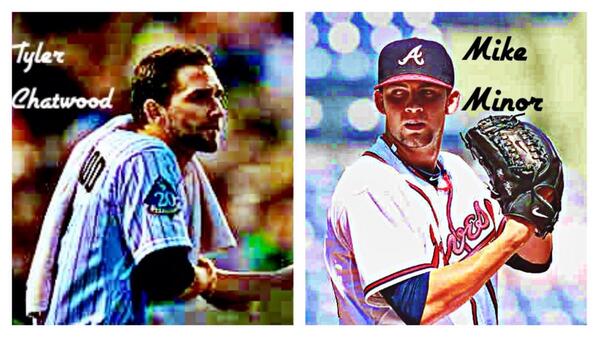 RHP Tyler Chatwood (COL) 7-3, 2.48 ERA
LHP Mike Minor (ATL) 10-5, 2.89 ERA
Tonight's Starting Lineups (7:10 pm ET, SportSouth):
Rockies (career vs. Minor):
Dexter Fowler - CF (2-7, 3B, 2 BB, K)
Charlie Culberson - 2B (N/A)
Carlos Gonzalez - LF (3-8, 2B, 2 RBI, BB, K)
Troy Tulowitzki - SS (0-5, BB)
Michael Cuddyer - RF (3-4, 2B, HR, 4 RBI, 2 BB, K)
Nolan Arenado - 3B (N/A)
Todd Helton - 1B (1-2, BB)
Yorvit Torrealba - C (N/A)
Tyler Chatwood - P (N/A)
Braves (career vs. Chatwood):
Jason Heyward - CF (0-2)
Justin Upton - RF (2-6, BB, K)
Freddie Freeman - 1B (3-6, 2 2B, RBI, 2 BB, K)
Evan Gattis - LF (1-3, 2B, K)
Brian McCann - C (0-3)
Chris Johnson - 3B (1-1, 2B)
Dan Uggla - 2B (2-6, 2B, K)
Andrelton Simmons - SS (N/A)
Mike Minor - P (N/A)
Preview:
Braves' offense has scored 20 runs in winning the first two games of a four-game series against the Rockies at Turner Field, but tonight, offense may not be easy to come by for either team.
With the Braves looking to win its third straight over the Rockies, Mike Minor will toe the rubber tonight. The Braves' ace is enjoying the best season of his Major League career, carrying a 10-5 record along with a 2.89 ERA into play tonight.
Minor has pitched solidly in the month of July, allowing just six earned runs in his last four starts. During that span, Minor has also held opposing left-handers to a .204 batting average and sports a 1.91 ERA in 28 1/3 innings.
Rockies SP Tyler Chatwood is no slouch himself. The young righty carries a 7-3 record and a 2.48 ERA so far this season. Chatwood has been by far the Rockies most consistent pitcher and like Minor, he has allowed six runs in his last four starts, which is good for a 1.95 ERA in 27 2/3 innings pitched during that span. Chatwood struck out a career-high 11 while surrendering two earned runs and walking none in seven innings in his last start against the Brewers.
Todd Cunningham called up, singles in first MLB at-bat:
Before Tuesday's game, the Braves placed OF Reed Johnson on the 15-day disabled list with tendinitis in his right Achilles and in a corresponding move promoted OF Todd Cunningham from Triple-A Gwinnett.
Cunningham, who hit .279 with a .709 OPS, and 18 stolen bases in 99 games this season for Gwinnett, singled in his first Major League at-bat, pinch hitting for starter Alex Wood in the seventh inning.
Updates on Upton, Schafer:
Braves manager Fredi Gonzalez said that OFs BJ Upton and Jordan Schafer are nearing returns from their injuries. Upton, who has been sidelined since June 12 with a right adductor strain, is scheduled to begin a three-game rehab assignment with Gwinnett starting tonight and could be activated as early as Saturday.
Jordan Schafer, who has been out since July 3 with a stress fracture in his foot after fouling a ball off of it in Kansas City last month, could begin his rehab stint with Gwinnett on Saturday and could rejoin the Braves sometime next week.
Roy Oswalt nearing rehab assignment:
Rockies SP Roy Oswalt threw a bullpen session on Tuesday and will throw a simulated game on Friday in Pittsburgh before going out on a rehab assignment.
Oswalt, who has been on the DL since July 8 with a left hamstring strain, threw 36 pitches in his session and has said he will only make one rehab start before rejoining the big league club.
Oswalt did not participate in Spring Training because he did not receive any offseason offers. The former All-Star and Cy Young candidate has to prove himself once again that he is capable of being a mainstay in the Rockies rotation. In just four starts this season, Oswalt is 0-4 with a 7.64 ERA.
Side note:
Both Tyler Chatwood and Mike Minor have posted an ERA over five in their careers against the opposing team. Chatwood has a 5.63 ERA in three starts against the Braves while Minor has a 5.50 ERA in three starts as well.
With last night's win and Nationals' loss, the Braves now enjoy a 10-game lead in the NL East, which is bigger than the leads of the Pirates, Dodgers, Rays, and Tigers COMBINED.