Pitching Probables (photo credits to @D_Slemp):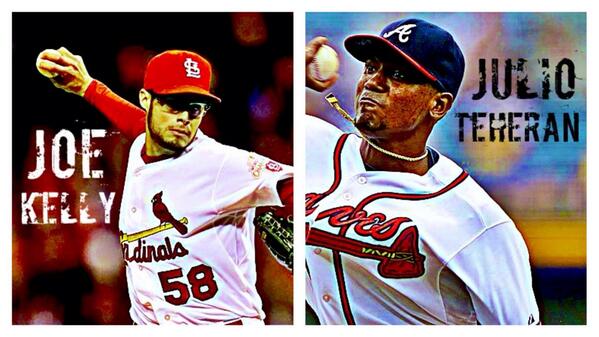 RHP Joe Kelly (STL) 1-3, 3.88 ERA
RHP Julio Teheran (ATL) 7-5, 3.25 ERA
Today's Starting Lineups (3:05 pm ET, FOX):
Cardinals (2013 season stats):
Matt Carpenter - 2B (.325/.400/.499 9 HR 50 RBI)
Carlos Beltran - RF (.299/.334/.517 19 HR 55 RBI)
Matt Holliday - LF (.268/.351/.448 13 HR 47 RBI)
Allen Craig - 1B (.331/.377/.485 10 HR 79 RBI)
Yadier Molina - C (.335/.381/.490 8 HR 54 RBI)
David Freese - 3B (.275/.350/.387 5 HR 34 RBI)
Jon Jay - CF (.249/.327/.343 5 HR 39 RBI)
Daniel Descalso - SS (.270/.332/.414 3 HR 26 RBI)
Joe Kelly - P (.125/.125/.125 0 HR 0 RBI)
Braves (2013 season stats):
Jason Heyward - CF (.223/.325/.370 8 HR 22 RBI)
Justin Upton - RF (.249/.342/.439 16 HR 47 RBI)
Freddie Freeman - 1B (.303/.379/.469 11 HR 65 RBI)
Evan Gattis - LF (.259/.317/.548 15 HR 39 RBI)
Brian McCann - C (.286/.372/.527 13 HR 35 RBI)
Dan Uggla - 2B (.205/.321/.438 21 HR 49 RBI)
Chris Johnson - 3B (.329/.368/.458 6 HR 34 RBI)
Andrelton Simmons - SS (.240/.279/.358 11 HR 35 RBI)
Julio Teheran - P (.205/.244/.231 0 HR 1 RBI)
Preview:
Although he would have liked to have returned sooner if he could, Cardinals OF Matt Holliday is expected to make his return to the lineup this afternoon, in the midst of an 11-game, 10-day road trip in which the Cardinals face three of the NL's best. Holliday had been taking batting practice or over a week and was also cleared to run full speed several days ago while dealing with a strained hamstring. With Cardinals C Yadier Molina fully recovered from his sore knee, the Cardinals will be at full strength for game two of the series against the Braves this afternoon. Holliday brings a .268 average, 13 homers, and 47 RBIs into today's game.
Cardinals starting pitcher Joe Kelly, who's making his third consecutive start, will be in search of his second win of the season. The right-hander allowed just three hits in 5 1/3 innings in his last start, holding the Cubs to one run while striking out four batters.
Opposing Joe Kelly will be Braves SP Julio Teheran, who's coming off a solid outing in which he allowed one run on six hits, two walks, and struck out six in the no decision against the Mets, but the Braves came away with a 2-1 win. Braves are 12-7 in Teheran's starts this season.
BJ Upton, Jordan Schafer injury updates:
Although Braves outfielders BJ Upton and Jordan Schafer are on different schedule as it pertains to returning to the lineup, both were able to test out their injuries that have forced them onto the disabled list. Schafer is likely some weeks away from return from a stress fracture in his ankle, but Upton could return as early as next week from a strained right adductor.
Before Friday's game, BJ was seen running sprints and working on agility to test out his adductor. Upton hopes to begin a rehab assignment early next week, but Schafer only recently started taking swings off a tee.
Shane Robinson seeing more playing time over Jon Jay:
For the fourth time in the last five games, Cardinals manager Mike Matheny started Shane Robinson in center field, in place of Jon Jay, but after going 0-for-3 last night, Robinson was replaced by Jay in the ninth inning of the 4-1 loss.
Robinson had earned the playing time by going 5-for-11 in his last three starts and 7-for-14 in July prior to Friday's game. Jay on the other hand, had gone 17-for-63 to start the month, but Matheny is committed to a platoon in center field.
Side note:
Cardinals are 17-7 against the NL East this season, including an 8-6 record on the road.
After going 0-for-4 last night, Allen Craig is batting .386 (27-for-70) in the month of July.
Braves are the best home team in the Majors, going 32-15 (.681) at Turner Field. Cardinals sport the Majors best road record at 30-21 (.588).