Pitching Probables (photo cred to @D_Slemp):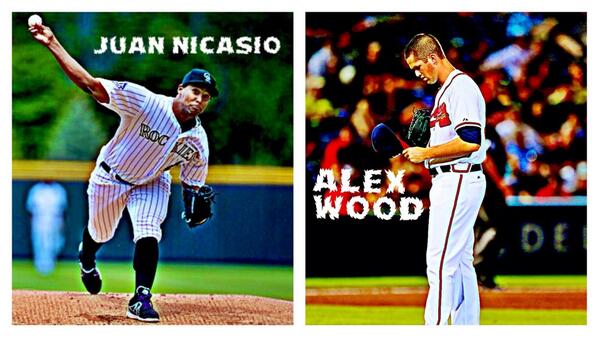 RHP Juan Nicasio (COL) 6-4, 4.40 ERA
LHP Alex Wood (ATL) 0-2, 3.42 ERA
Tonight's Starting Lineups (7:10 pm ET, SportSouth/MLB Network):
Rockies (2013 season stats):
Dexter Fowler - CF (.270/.369/.451 12 HR 31 RBI)
DJ LeMahieu - 2B (.274/.316/.361 1 HR 15 RBI)
Carlos Gonzalez - LF (.306/.373/.602 26 HR 69 RBI)
Troy Tulowitzki - SS (.330/.393/.604 19 HR 59 RBI)
Michael Cuddyer - RF (.329/.398/.568 17 HR 62 RBI)
Wilin Rosario - C (.277/.311/.475 15 HR 52 RBI)
Todd Helton - 1B (.259/.328/.397 7 HR 34 RBI)
Nolan Arenado - 3B (.252/.291/.397 8 HR 33 RBI)
Juan Nicasio - P (.174/.269/.174 0 HR 2 RBI)
Braves (career against Nicasio):
Jason Heyward - CF (3-6, 2B, RBI, 2 BB)
Justin Upton - RF (1-2, 3 BB)
Freddie Freeman - 1B (4-6, 2B, 3B, 2 HR, 6 RBI, BB)
Evan Gattis - LF (N/A)
Brian McCann - C (N/A)
Chris Johnson - 3B (3-6, 2B, RBI)
Dan Uggla - 2B (2-8, 2B, RBI, 2 K)
Andrelton Simmons - SS (N/A)
Alex Wood - P (N/A)
Preview:
With Wednesday's trade deadline quickly approaching, the Braves continue to take stock of their starting rotation. While Atlanta's starters have combined to allow just three runs in 20 innings in the weekend series against the Cardinals, last night's starter, Brandon Beachy, did not have as much success. Beachy was knocked around for seven runs in 3 2/3 innings in his no decision, albeit it was his first start back from Tommy John surgery.
LHP Alex Wood will give an indication whether they need to continue to look for starting pitching or to ride with their current rotation into the postseason when he takes the mound tonight against the Rockies for his third career Major League start. Wood is still looking for his first career win, going 0-2 with a 3.42 ERA in 17 games since being called up in late May. He was a bit rusty in his last outing against the Mets, allowing four runs on eight hits, all of which were singles, in 4 1/3 innings in the no decision.
Opposing Alex Wood tonight will be Rockies SP Juan Nicasio. Since being recalled from Triple-A Colorado Springs, Nicasio has been dominant, posting a 0.47 ERA in his last three starts. In that stretch, Nicasio has given up one lone run on eight hits in 19 innings to go along with 15 strikeouts. Needless to say, the Braves lineup will have their hands full tonight.
Rockies call up Culberson:
Shortly before Monday's game, Rockies called up utility man Charlie Culberson from Triple-A and optioned struggling 1B Jordan Pacheco.
Rockies acquired Culberson in last season's trade which involved sending Marco Scutaro to the Giants. In Colorado Springs, Culberson was hitting .310 with eight home runs, 27 doubles, and eight triples.
Braves acquire LHP Scott Downs:
With the need of a lefty arm in the bullpen to help take the load off of Luis Avilan, Braves acquired veteran reliever Scott Downs from the Angels in exchange for Minor League right-hander Cory Rasmus.
Downs has compiled a 1.84 ERA in 43 appearances for the Angels this season. He pitched in last night's game, earning the win allowing one hit in 1 1/3 innings. Downs adds more depth to an already brilliant Braves bullpen, which leads the Majors with a 2.59 ERA.
Side note:
Braves 3B Chris Johnson continued his hot hitting last night, tallying two more hits to improve his National League-best batting average to .339.
In three career starts against the Braves, Juan Nicasio is 0-2 with a 7.53 ERA, but has pitched better in his last three starts since being recalled from Triple-A Colorado Springs.