Pitching Probables (photo creds to @D_Slemp):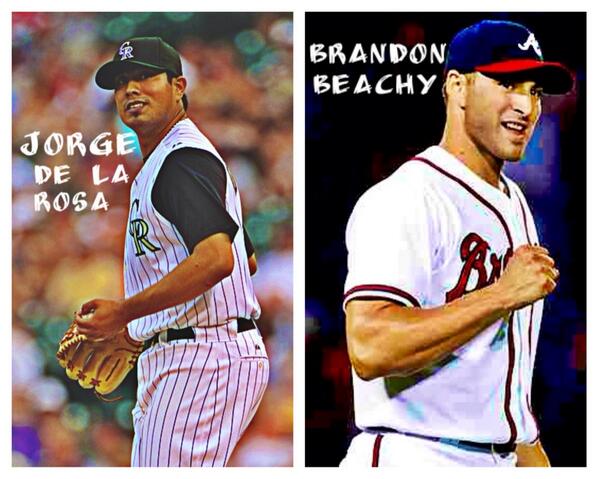 RHP Jorge De La Rosa (COL) 10-5, 2.97 ERA
RHP Brandon Beachy (ATL) 5-5, 2.00 ERA ('12 season stats)
Tonight's Starting Lineups (7:10 pm ET, SportSouth):
Rockies (career vs. Beachy):
Dexter Fowler - CF (1-4, 2 BB, 2 K)
DJ LeMahieu - 2B (N/A)
Carlos Gonzalez - LF (1-4, HR, 2 RBI, 2 BB, K)
Troy Tulowitzki - SS (3-5, 2B, HR, 3 RBI, BB)
Michael Cuddyer - RF (1-3, RBI)
Todd Helton - 1B (1-3, 2B)
Wilin Rosario - C (N/A)
Nolan Arenado - 3B (N/A)
Jorge De La Rosa - P (N/A)
Braves (career vs. De La Rosa):
Jason Heyward - CF (0-3, 2 K)
Justin Upton - RF (6-17, 2B, 4 BB, 4 K)
Freddie Freeman - 1B (N/A)
Evan Gattis - C (N/A)
Chris Johnson - 3B (N/A)
Dan Uggla - 2B (4-14, 2 2B, 3B, 3 RBI, 2 BB, 6 K)
Andrelton Simmons - SS (N/A)
Joey Terdoslavich - LF (N/A)
Brandon Beachy - P (N/A)
Preview:
It has been 13 months since Brandon Beachy last appeared in a Major League game. Tonight, he makes his long-awaited season debut as the Braves open up a four-game series with the Rockies at Turner Field. Beachy, who posted a 2.50 ERA in his last four rehab starts, will take Tim Hudson's place in the rotation. After 3 2/3 innings in his last start in the big leagues back on June 16, 2012 against the Orioles, Beachy left the game with what turned out to be a torn UCL, which requires Tommy John surgery. Beachy was scheduled to make his return against the Mets in last month's five-game series, but was scratched due to right elbow inflammation, which forced the right-hander to start his rehab assignment all over.
As for the Rockies, they did not fare too well in their last homestand against some of the worst teams in the National League, going 5-5 against the Cubs, Marlins, and Brewers. Now, they'll be challenged on the road by one of the NL's best.
It doesn't help that the Rockies have been without their All-Star outfielder Carlos Gonzalez for three consecutive games because of a middle finger sprain in his right hand. Gonzalez is in tonight's lineup and will hit third.
Chris Johnson continuing to swing hot bat:
Braves 3B Chris Johnson went 2-for-3 on Saturday, 3-for-4 on Sunday night, and has hit safely in each of his last six games. He's gone 10-for-21 during his hitting streak and now leads the NL in hitting with a .338 batting average.
Rockies roster moves:
Rockies recalled P Jeff Francis was recalled from Triple-A Colorado Springs to join the team's bullpen. Francis has spent his entire career, almost all of it with the Rockies, as a starting pitcher, but is adjusting to the reliever role smoothly after making a few relief appearances in Triple-A. Rockies needed another lefty arm in their bullpen alongside Josh Outman. Aside from Outman, the only other lefty in the bullpen is Rex Brothers, who is currently the team's closer with Rafael Betancourt on the disabled list.
Side note:
Braves closer Craig Kimbrel joined John Smoltz on Saturday as the only pitchers in Braves franchise history with three 30-save seasons. Kimbrel added his 31st save in last night's 5-2 win over the Cardinals.
Tonight's Rockies starter Jorge De La Rosa has been the most consistent pitcher for the club this season, and threw his sixth scoreless start Wednesday against the Marlins. In two career starts against the Braves, De La Rosa is 1-1 with a 7.24 ERA in two career starts.