Pitching Probables (photo creds to @D_Slemp):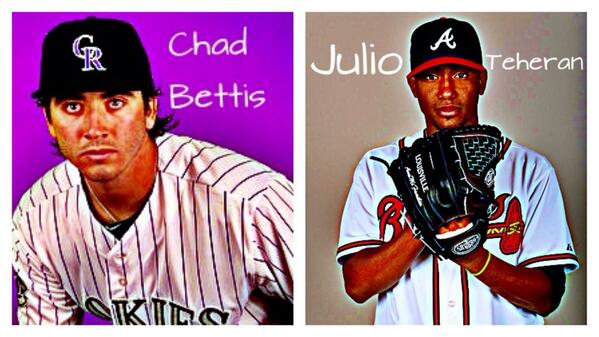 RHP Chad Bettis (COL) - making Major League debut
RHP Julio Teheran (ATL) 7-5, 3.07 ERA
Tonight's Starting Lineups (7:10 pm ET, SportSouth, MLB Network):
Rockies (2013 season stats):
Dexter Fowler - CF (.270/.369/.447 12 HR 31 RBI)
Corey Dickerson - LF (.262/.333/.429 1 HR 3 RBI)
Troy Tulowitzki - SS (.323/.385/.591 19 HR 59 RBI)
Wilin Rosario - C (.277/.310/.475 15 HR 52 RBI)
Todd Helton - 1B (.257/.326/.392 7 HR 34 RBI)
Nolan Arenado - 3B (.253/.291/.405 9 HR 35 RBI)
Charlie Blackmon - RF (.242/.266/.371 1 HR 4 RBI)
DJ LeMahieu - 2B (.270/.311/.354 1 HR 15 RBI)
Chad Bettis - P (N/A)
Braves (2013 season stats):
Jason Heyward - CF (.231/.331/.378 9 HR 27 RBI)
Justin Upton - RF (.257/.349/.442 16 HR 48 RBI)
Freddie Freeman - 1B (.309/.387/.483 13 HR 71 RBI)
Evan Gattis - LF (.255/.307/.514 15 HR 43 RBI)
Brian McCann - C (.283/.367/.534 15 HR 41 RBI)
Chris Johnson - 3B (.342/.381/.469 6 HR 37 RBI)
Dan Uggla - 2B (.199/.315/.425 21 HR 51 RBI)
Andrelton Simmons - SS (.252/.291/.376 11 HR 40 RBI)
Julio Teheran - P (.195/.233/.220 0 HR 1 RBI)
Preview:
Desperate to keep their fading playoff hopes alive, Rockies will try to salvage a game in the series finale tonight against the Braves. Those hopes will hinge on Chad Bettis, who makes his Major League debut. He missed all of 2012 with a right shoulder injury. Bettis went 3-4 with a 3.71 ERA in 12 starts with Double-A Tulsa. In his final Double-A start, Bettis threw seven scoreless innings, but his debut comes against a Braves lineup that has been blistering Rockies pitching for 29 runs in the first three games of the series.
The struggling Rockies offense, which was held scoreless for the first time since July 13 in last night's loss, has to deal with red-hot Julio Teheran. His only other start against the Rockies came back in April, where he scattered eight hits, but only allowed a run for his first win of the season.
Teheran has only surrendered a run in two starts since the All-Star break, crediting his confidence on his curveball for his recent success.
Teheran's recent dominance, coupled with Mike Minor's two-hit outing on Wednesday, has assured the Braves front office that the team did not have to trade for a veteran starter to help bolster their rotation.
While the Rockies stumbled back to a season-high eight games out of first place, the Braves keep surging along and now have a commanding 11-game lead, their largest of the year, over the second place Nationals in the NL East.
Arenado heating up, torching Braves pitching:
Rockies 3B Nolan Arenado went 1-for-3 Wednesday night after homering in the first two games of the series against the Braves. His nine homers are tied for third among NL rookies and his 35 RBIs are second among rookies to Braves C/OF Evan Gattis. He also boasts 128 total bases, which is the most by any rookie this season.
BJ's goes hitless in first rehab start:
Braves CF BJ Upton finished 0-for-3 in his first rehab start last night with Triple-A Gwinnett as he recovers from a right adductor strain.
The injury has sidelined Upton for three weeks after he injured the muscle attempting to make a diving catch in the July 12 loss to the Reds. He's expected to make two more rehab starts with Gwinnett and could rejoin the big league club as soon as Saturday.
Upton has struggled mightily at the plate this season, hitting .177 with eight homer and 20 RBIs, as well as striking out 102 times in 84 games.
Side note:
Rockies' third consecutive loss to the Braves Wednesday night continued a long history of trouble against the Braves, moving Colorado to 61-107 all-time. The 61 wins against the Braves are the fewest wins against any NL team.
Evan Gattis continues to swing a hot bat for the Braves, going to 2-for-5 with a pair of singles in Wednesday's game and has hit in 11 of 14 games since being activated from the disabled list on July 14. Despite missing 24 games, Gattis still leads all Major League rookies with 15 home runs and 43 RBIs.