Pitching Probables (photo credits to @D_Slemp):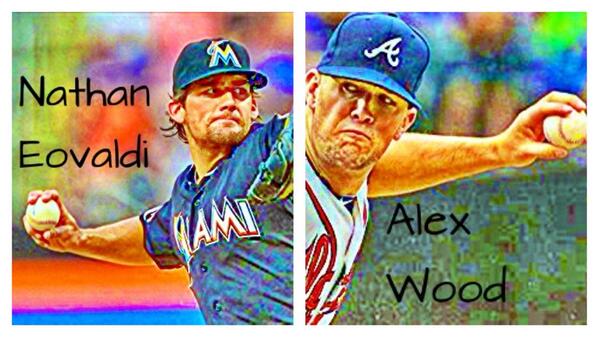 RHP Nathan Eovaldi (MIA) 2-2, 3.19 ERA
LHP Alex Wood (ATL) 2-2, 3.20 ERA
Tonight's Starting Lineups (7:10 pm ET, FS South):
Marlins ('13 season stats):
Christian Yelich - LF (.300/.347/.414 1 HR 4 RBI)
Adeiny Hechavarria - SS (.239/.274/.310 2 HR 26 RBI)
Ed Lucas - 2B (.246/.314/.310 2 HR 14 RBI)
Logan Morrison - 1B (.277/.364/.445 4 HR 18 RBI)
Placido Polanco - 3B (.260/.316/.301 1 HR 20 RBI)
Justin Ruggiano - RF (.197/.276/.359 12 HR 32 RBI)
Jake Marisnick - CF (.179/.220/.250 1 HR 3 RBI)
Jeff Mathis - C (.194/.273/.285 2 HR 20 RBI)
Nathan Eovaldi - P (.063/.118/.063 0 HR 1 RBI)
Braves (career vs. Eovaldi):
Jason Heyward - RF (4-10, 3B, RBI, 3 K)
Justin Upton - LF (2-6, 2 K)
Freddie Freeman - 1B (2-10, 2B, 2 RBI, K)
Evan Gattis - C (N/A)
Chris Johnson - 3B (N/A)
Dan Uggla - 2B (3-7, HR, 3 RBI, 3 BB, 2 K)
BJ Upton - CF (N/A)
Andrelton Simmons - SS (0-2)
Alex Wood - P (N/A)
Preview:
The Braves won their 14th consecutive game on Friday night, earning the chance to match the Atlanta record of 15 straight wins from April 16-May 2, 2000 against the Marlins in the second game of the three-game set. The franchise record is 18 straight wins, set by the 1891 Boston Beaneaters.
The offense especially, has come alive during the Braves' winning streak, averaging nearly six runs a game. But the pitching has been even better.
Brandon Beachy's eight scoreless innings last night helped lower the Braves' ERA to 2.08 during the streak. Lefty Alex Wood will be tasked of continuing the trend tonight as he takes the mound. Wood had perhaps his best start in his Major League career last Sunday night versus the Phillies, allowing just one run on two hits and struck out three, outpitching Cliff Lee to record his second win of his brief career.
Opposing Wood is young right-hander Nathan Eovaldi, who could use some of the offense that the Braves pitchers have received this month. Marlins have failed to give Eovaldi any run support in his last four starts. Prime example is in his last start against the Indians where he only surrendered a run in seven magnificent innings. Even if Eovaldi pitches well again tonight, it is unlikely that the Marlins offense will be able to score runs. Miami offense has plated just 12 runs during their six-game losing streak.
Schafer activated from DL, Laird begins rehab assignment:
Jordan Schafer was activated from the disabled list Friday night and Jose Constanza was optioned down to Triple-A Gwinnett in a corresponding move.
Schafer had been on the DL since July 4 with a stress fracture in his foot. He hit .063 (2-for32) with two doubles in eight rehab games. While up with the big league club, Constanza hit .160 (4-for-25) with one RBI, one run scored, and five strikeouts in 14 games.
Gerald Laird began his rehab assignment for Gwinnett last night and went hitless. He was placed on the 15-day disabled list on August 3, retroactive to July 26, with kidney stones.
Side note:
Justin Upton blasted a solo home run in the first inning of last night's game to extend his hit streak to 13 games. He's batting .426 (23-for-54) with six homers and 14 RBIs during the streak.
Giancarlo Stanton is hitting just .177 (3-for-17) with three runs scored and an RBI during the Marlins current road trip. Stanton is not in tonight's lineup.
Brandon Beachy won his first MLB game since returning from Tommy John surgery. His last big league win came against the Marlins on May 17, 2012.
Christian Yelich extended his career-high hitting streak to nine games with a leadoff single in the first inning of last night's game. He is hitting .405 (15-for-37) with six runs scored during the streak.
Jacob Turner gave up three home runs, all in the first inning, in last night's loss, matching the three he allowed in his previous 12 starts.