Pitching Probables: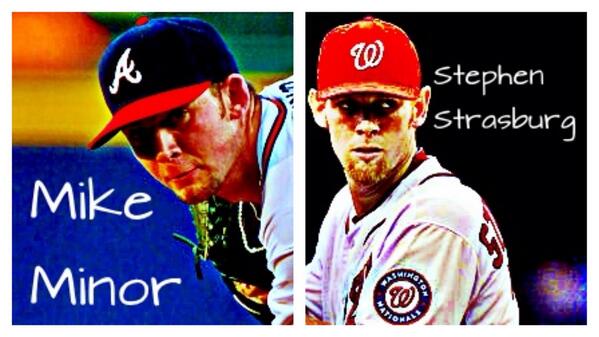 LHP Mike Minor (ATL) 11-5, 2.75 ERA
RHP Stephen Strasburg (WSH) 5-9, 3.04 ERA
Tonight's Starting Lineups (7:05 pm ET, SportSouth):
Braves (career vs. Strasburg):
Jason Heyward - RF (7-15, 2B, RBI, 2 BB, 2 K)
Justin Upton - LF (1-12, RBI, BB, 4 K)
Freddie Freeman - 1B (5-13, 2B, HR, 4 RBI, 2 BB, 2 K)
Brian McCann - C (6-16, 2B, HR, 2 RBI, 4 K)
Chris Johnson - 3B (3-11, 3 RBI, 3 K)
Dan Uggla - 2B (11-24, 2 2B, 2 HR, 8 RBI, 3 BB, 9 K)
BJ Upton - CF (1-8, BB, 3 K)
Andrelton Simmons - SS (0-6, K)
Mike Minor - P (0-3, 2 K)
Nationals (career vs. Minor):
Bryce Harper - CF (2-8, 2B, BB)
Ian Desmond - SS (5-15, 2 2B, RBI, BB, K)
Ryan Zimmerman - 3B (4-14, RBI, 3 BB, 4 K)
Jayson Werth - RF (2-8, HR, 3 RBI, 3 K)
Adam LaRoche - 1B (1-6, 2B, RBI, 2 BB, K)
Wilson Ramos - C (3-4, HR, RBI, K)
Anthony Rendon - 2B (N/A)
Scott Hairston - LF (3-12, HR, RBI, 4 K)
Stephen Strasburg - P (2-3, RBI, BB)
Preview:
The stage was set last week as soon as both the Braves and Nationals revealed their probable starting pitchers in this week's three-game series between the two in DC. With each team's three most proven starters taking the mound, the Braves could either bury the rest of the division for good or the Nationals could cut into the Braves' sizeable division lead and give themselves somewhat of a fighting chance.
After building upon a perfect seven-game homestand as well as a series sweep in Philadelphia this past weekend, the Braves, carrying a 10-game winning streak, can all, but lock up the division crown if they can stay hot against the Nationals, who are 12 1/2 games back of first place and are clawing just to get back to .500 after losing six straight after the All-Star break. Since that six-game losing the streak, the Nationals have played solid baseball, but the only problem for them is the club that they're chasing has cranked up their offense in response.
Mike Minor and Stephen Strasburg square off on Monday in the first game of the pivotal three-game set. Strasburg was inconsistent in the month of July and is looking to snap his four-start winless streak in which he has posted a 5.63 ERA and received no more than three runs of support during that span.
Meanwhile, Braves lefty Mike Minor has anchored the Braves rotation in the aftermath of Tim Hudson's season-ending ankle injury, allowing one run and no walks over 14 innings in his last two starts, both Braves' wins. Minor was in cruise control in last Wednesday's start against the Rockies, allowing only two hits in seven magnificent innings.
BJ Upton showing progress in return:
Braves CF BJ Upton went 1-for-5 with a walk and a pair of strikeouts against the Phillies on Saturday in his return from a right adductor strain. Upton racked up two more hits last night, including a single and a double, and scored a run. Upton used his time off to adjust his swing and return to the approach he exhibited in his early years with the Rays.
Cedeno called up, Ohlendorf to DL, Werth returns to lineup:
Nationals recalled left-hander Xavier Cedeno from Triple-A Syracuse on Sunday to take the roster spot of long reliever Ross Ohlendorf for at least another week and a half.
Ohlendorf was placed on the 15-day disabled list retroactive to August 1 with right shoulder inflammation after making an emergency start on July 26 against the Mets in which he threw 114 pitches and saw the velocity in his fastball dip considerably.
Right fielder Jayson Werth returned to the lineup yesterday in Milwaukee after exiting Saturday's game with a minor groin injury. Werth went 2-for-3 with a run scored in Sunday's game.
Side note:
Minor's 1.01 WHIP this season ranks sixth among all qualifying starters in the Majors.
Strasburg has posted a 1.68 ERA in 11 starts at home this season with an impressive 6-1 strikeout-to-walk ratio.