Pitching Probables (photo credits to @D_Slemp):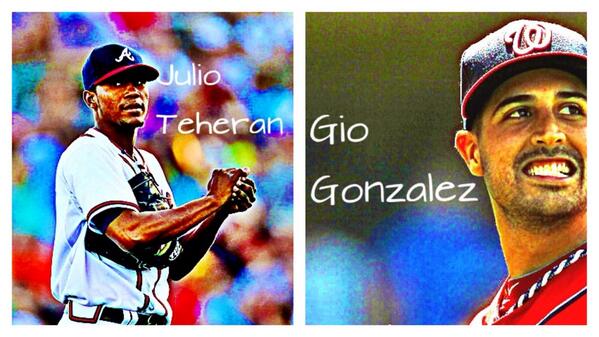 RHP Julio Teheran (ATL) 8-5, 3.02 ERA
LHP Gio Gonzalez (WSH) 7-4, 3.57 ERA
Tonight's Starting Lineups (7:05 pm ET, SportSouth/MLB Network):
Braves (career vs. Gonzalez):
Jason Heyward - RF (4-18, 2 RBI, 4 K)
Justin Upton - LF (1-8, HR, RBI, 4 BB, 2 K)
Freddie Freeman - 1B (3-14, 2B, HR, 5 RBI, 5 K)
Brian McCann - C (N/A)
Chris Johnson - 3B (5-12, 2B, 3 RBI, 4 K)
Dan Uggla - 2B (1-12, 2B, RBI, 8 BB, 6 K)
BJ Upton - CF (3-16, 2B, BB, 4 K)
Andrelton Simmons - SS (5-12, 2B, 2 HR, 5 RBI, 3 BB)
Julio Teheran - P (N/A)
Nationals (career vs Teheran):
Bryce Harper - LF (2-5, 2B, HR, 2 RBI, BB, K)
Ryan Zimmerman - 3B (0-6, K)
Jayson Werth - RF (2-6, RBI, 2 K)
Adam LaRoche - 1B (2-6, 3 BB, 2 K)
Ian Desmond - SS (4-9, 2B, 3 K)
Wilson Ramos - C (N/A)
Denard Span - CF (6-9, 2 3B, RBI, K)
Anthony Rendon - 2B (N/A)
Gio Gonzalez - P (N/A)
Preview:
Sitting four games under .500 and 13.5 games back of the NL East-leading Braves, Nationals need wins in the worst way as they enter the second game of the three-game set with Atlanta.
It will be up to Nationals southpaw Gio Gonzalez to halt the Braves 11-game winning streak. Gonzalez, who was exonerated from the Biogenesis scandal on Monday, has compiled a 7-4 record to go with a 3.57 ERA in 22 starts this season. In his last start however, Gonzalez became the first Nationals pitcher since Jason Simontacchi in 2007 to allow 10 runs in a game. The Tigers lit up the lefty for 10 runs on 11 hits in just 3 1/3 innings.
Slated to take the ball for the Braves tonight is young right-hander Julio Teheran. Over his last three starts, all wins, Teheran has posted a 1.00 ERA with 23 strikeouts in 18 innings. He held the Rockies to a run on five hits in five innings last Thursday while tallying a career-high 11 strikeouts. Teheran wasn't as sharp has he's been for most of the season in his prior start, but battled and contained the Rockies lineup.
Jayson Werth named NL Player of the Month for July:
Nats OF Jayson Werth was named NL Player of the Month. He is the first Nats position player to win the award since the team moved to Washington in 2005. Werth slashed .367/.450/.622 with seven home runs and 22 RBIs last month.
Side note:
Braves OF Justin Upton has four homers in the month of August. He had four home runs in May, June, and July combined.
With last night's 3-2 win, the Braves notched their 34th come-from-behind-win, which leads all of Major League Baseball.
Nationals are 48-13 when they score three or more runs and 6-45 when they score two runs or fewer.
Braves 13.5-game lead in the NL East is the largest for the club since 2003. The highest lead the Braves had in that season was 15 games.