Pitching Probables: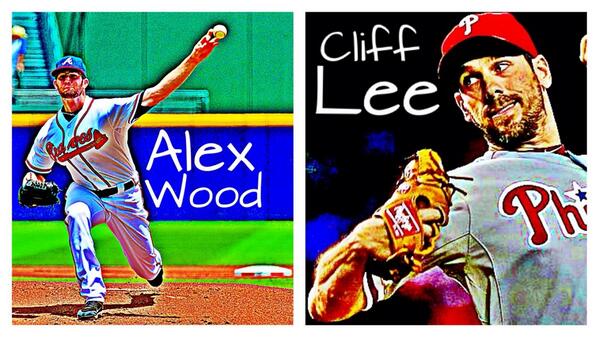 LHP Alex Wood (ATL) 1-2, 3.51 ERA
LHP Cliff Lee (PHI) 10-4, 3.05 ERA
Tonight's Starting Lineups (8:05 pm ET, ESPN):
Braves (career vs. Lee):
Jason Heyward - RF (2-17, 3B, BB, 2 K)
Justin Upton - LF (6-14, 2 2B, BB, 3 K)
Freddie Freeman - 1B (6-24, BB, 9 K)
Brian McCann - C (8-23, 3 2B, RBI, BB, 5 K)
Chris Johnson - 3B (2-14, HR, 2 RBI, 3 K)
Dan Uggla - 2B (7-28, 2 2B, 2 HR, 6 RBI, BB, 11 K)
BJ Upton - CF (8-37, 3 2B, RBI, BB, 13 K)
Andrelton Simmons - SS (1-9, 2 K)
Alex Wood - P (N/A)
Phillies (career vs. Wood):
Michael Young - 3B (N/A)
Chase Utley - 2B (N/A)
Jimmy Rollins - SS (0-2)
Darin Ruf - LF (1-1)
Delmon Young - RF (N/A)
Kevin Frandsen - 1B (0-1, RBI)
John Mayberry Jr. - CF (N/A)
Carlos Ruiz - C (0-1)
Cliff Lee - P (N/A)
Preview:
Braves continue to surge away from the pack in the NL East, and they'll be going for a third consecutive series sweep when they take on the Phillies tonight in the finale of the three-game weekend series in which both teams are headed in opposite directions.
Atlanta has won nine straight and 10 of its last 11 while Philadelphia has lost four straight and 12 of its last 13. It'll be the veteran Cliff Lee taking the mound for the Phillies, who's coming off a two-week layoff due to a stiff neck against rookie Alex Wood, who is finally working into a normal starting routine in tonight's battle of left-handers.
Lee, who made his fourth All-Star team last month, has been sidelined with that stiff neck since making a start against the Mets on July 21 in which he allowed three home runs. Combined with allowing four home runs to the Nationals in the start prior to his last outing, Lee has given up seven home runs between those outings, after allowing just nine in his first 18 starts.
Wood, meanwhile, finally get into a groove, making his second straight start on normal rest. So far, the Braves have liked what they've seen out of Wood, although his work as been sporadic.
Wood had a bothersome cuticle on his left index finger in his last start against the Rockies, which led to him abandoning his curveball. After the finger was fixed before the third inning, Wood went on to retire 14 of the last 17 Rockies hitters to record his first MLB win.
Darin Ruf continues hot streak:
Phillies OF Darin Ruf ran his streak of consecutive games reaching base safely to 31 with a single in yesterday's 5-4 loss to the Braves, extending the longest active streak in the Majors.
Ruf, who scored after John Mayberry Jr's homer in the second inning, has the Phillies longest streak of reaching base safely since Chase Utley went for 33 games in late 2008 and extending into the early part of 2009. Ruf's streak dates back to last season and restarted when he was called up from Triple-A on July 6.
Chris Johnson's multi-hit streak ends, Braves streak of scoring five runs in an inning also ends:
Braves 3B Chris Johnson saw his streak of multi-hit games end at eight Saturday after going 0-for-3 with two walks. Johnson, who has 37 multi-hit games this season, had the longest streak of multi-hit games since the Braves moved to Atlanta in 1966, according to Elias Sports Bureau. Johnson had gone 21-for-44 (.477) during his 11-game hit streak before going hitless yesterday.
Braves streak of scoring at least five runs in an inning also ended in yesterday's game. After scoring five runs in the fifth inning in Friday night's game, it marked the fifth straight game in which the Braves had done so, becoming only the fourth team in MLB history to accomplish said feat. The 1920 Indians, 1929 Cubs, and 2007 Tigers also scored at least five runs in an inning in five consecutive games, according to Elias.
Side note:
With the Braves taking a 5-3 lead in the season series with the Phillies, they also moved above .500 at Citizens Bank Park all-time, at 44-43.
These two clubs will meet again in 8 days to begin a three-game series down in Atlanta.
After Sunday night's game, the Phillies will have Monday off before hosting a three-game series with the Cubs on Tuesday while the Braves will continue their six-game road trip to DC to begin a three-game series with the Nationals tomorrow night, followed by their first off-day of the second half on Thursday.