Pitching Probables: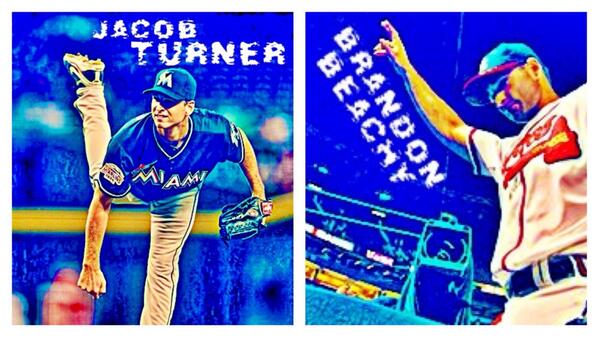 RHP Jacob Turner (MIA) 3-3, 2.68 ERA
RHP Brandon Beachy (ATL) 0-0, 9.00 ERA
Tonight's Starting Lineups (7:35 pm ET, FS South):
Marlins (career vs. Beachy):
Christian Yelich - LF (N/A)
Jake Marisnick - CF (N/A)
Giancarlo Stanton - RF (4-12, 3 2B, RBI, BB, K)
Logan Morrison - 1B (1-11, 2B, 2 RBI, 2 BB, 3 K)
Ed Lucas - 3B (N/A)
Donovan Solano - 2B (N/A)
Adeiny Hechavarria - SS (N/A)
Jeff Mathis - C (N/A)
Jacob Turner - P (N/A)
Braves (career vs. Turner):
Jason Heyward - RF (0-6, K)
Justin Upton - LF (0-2, BB)
Freddie Freeman - 1B (2-6, 2B, 2 K)
Brian McCann - C (N/A)
Chris Johnson - 3B (1-3, 2B, RBI)
Dan Uggla - 2B (2-5, 2 2B, 2 RBI, BB)
BJ Upton - CF (0-3, 2 K)
Andrelton Simmons - SS (2-3, 2B, RBI, K)
Brandon Beachy - P (N/A)
Preview:
The last time Brandon Beachy saw the Marlins, on May 17 of last year, the right-hander was as good as he has ever been, striking out six Marlins en route to tossing his first complete game shutout of his career, a five-hitter at Turner Field that lowered his ERA to 1.33 eight starts into the season.
In a month's time, Beachy was prepping to have Tommy John surgery to repair the UCL in his right elbow after he exited a start against the Orioles, cutting short the makings of a potential breakout season.
Beachy will face the Marlins on Friday night in his third start since his return from the long, tedious process of rehabbing from Tommy John, looking to build on his performance in a 5-4 win over the Phillies last Saturday in which Beachy received a no decision.
After surrendering seven runs on eight hits to the Rockies in his first start back, Beachy allowed three earned runs on five hits over 6 1/3 solid innings.
Jacob Turner is the next pitcher tasked with slowing down a red-hot Braves offense that has averaged almost six runs a game during their 13-game winning streak. Turner has turned in three consecutive quality starts, but has not won a game since the All-Star break. In his prior outing against the Indians, Turner struck out six over six innings in the 4-3 loss. Like most of the starters in the Marlins rotation, Turner has fell victim to lack of run support. The offense is providing barely over three runs of support in Turner's 12 starts this season.
No ill-effects of neck injury for Heyward, Schafer update:
After leaving Tuesday's game against the Nationals with a muscle strain in his neck, the Braves outfielder was right back in the leadoff spot in Wednesday's game after waking up pain-free without the headache he developed without warning after taking the swing in which he strained his neck. Heyward finished 2-for-5, including a two-out single that drove in the go-ahead run in the top of the eighth inning.
Outfielder Jordan Schafer could be activated from the disabled list as early as today. He has been sidelined since July 3 with a stress fracture in his right foot and has appeared in six Minor League rehab games with Triple-A Gwinnett. Through Wednesday's rehab start, Schafer is 2-for-23.
Season-long offensive woes continue for Marlins:
Thursday afternoon's 5-4 loss to the Pirates further underscored the Marlins' myriad struggles to score runs. After collecting just one extra-base hit out of 11 total hits in Tuesday's 4-3 loss, the Marlins went 1-for-4 with runners in scoring position and only had one extra base hit out of seven total hits. Although they were 3-for-7 with runners in scoring position Thursday, Miami only managed two extra-base hits out of nine total hits. They rank last in baseball in hits, runs, doubles, home runs, and OPS.
Side note:
Tonight's opener of the three-game series will be the first of 10 games the clubs will play against each other over the final two months of the season. Braves currently lead the season series, 6-3.
Braves are the only team in the NL East with a positive run differential, increasing the margin to plus-121 with Wednesday's 6-3 win over the Nationals.
Marlins OF Christian Yelich continued to swing the bat well as he extended his eight-game hitting streak with three hits in yesterday's game versus the Pirates, including hitting his first career MLB home run.