Pitching Probables (photo credits to @D_Slemp):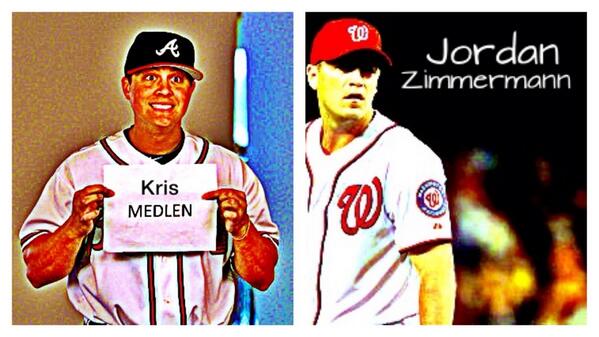 RHP Kris Medlen (ATL) 8-10, 3.85 ERA
RHP Jordan Zimmermann (WSH) 13-6, 3.06 ERA
Tonight's Starting Lineups (7:05 pm ET, SportSouth):
Braves (career vs. Zimmermann):
Jason Heyward - RF (2-8, HR, 3 RBI, BB, K)
Justin Upton - LF (4-10, 2 K)
Freddie Freeman - 1B (1-8, 2B, RBI, 3 BB, K)
Brian McCann - C (2-9, RBI, BB, 3 K)
Chris Johnson - 3B (1-5, 2B)
Dan Uggla - 2B (2-16, 2B, BB, 4 K)
BJ Upton - CF (0-5, 2 K)
Andrelton Simmons - SS (0-3)
Kris Medlen - P (N/A)
Nationals (career vs. Medlen):
Denard Span - CF (2-3, 2 2B, 2 RBI, BB)
Ryan Zimmerman - 3B (2-12, 5 K)
Bryce Harper - LF (2-10, HR, RBI, BB, 2 K)
Jayson Werth - RF (3-15, 2 2B, 3 K)
Adam LaRoche - 1B (4-14, 2 2B, RBI, BB, 3 K)
Ian Desmond - SS (4-12, 3 2B, 4 K)
Anthony Rendon - 2B (2-3)
Wilson Ramos - C (0-4)
Jordan Zimmermann - P (N/A)
Preview:
Can anyone stop the Braves? NO. Atlanta won its 12th consecutive game on Tuesday, when it beat the Nationals and increased its lead in the NL East to a season-high 14 1/2 games.
Stephen Strasburg and Gio Gonzalez both pitched well in the first two games of the series against the Braves, but neither effort proved to be enough to earn a win and stop the Braves' winning streak. In Wednesday night's series finale, the Nats will turn to All-Star Jordan Zimmermann to attempt to halt the surging Braves.
Zimmermann owns a 2.97 career ERA in six career starts against Atlanta. He struggled in July, posting an ERA of 7.18 in five starts, though he righted the ship last Friday, when he threw six scoreless innings in Milwaukee to claim his 13th win of the season.
Right-hander Kris Medlen (8-10, 3.85 ERA) will try to run the Braves streak to a baker's dozen. He says he feels like he has corrected his mechanical issues that have plagued him for most of the season. Medlen has shown progress in his last two starts and hopes to continue his good work tonight as the Braves look for a fourth consecutive sweep and finish the road trip with a perfect 6-0 record.
Nationals call up Roark, option Cedeno:
Nats optioned reliever Xavier Cedeno to Triple-A Syracuse and promoted pitcher Tanner Roark to the big league club. In 33 appearances (11 starts) for Syracuse, Roark went 9-3 with a 3.15 ERA.
Injury update on Paul Maholm:
Braves SP Paul Maholm, who has compiled a 9-9 record and a 4.41 ERA in 20 starts, has been sidelined since July 20 with a bruised left wrist. The lefty completed a side session on Tuesday, as well as a 50-pitch bullpen session today, according to Braves beat writer Kevin McAlpin. Maholm also expects to throw abother bullpen session on Friday before going out on a rehab assignment.
Side note:
During their 12-game winning streak, the Braves have outscored their opponents, 71-28.
Braves OF Jason Heyward left last night's game in the first inning due to a muscle strain in his neck. Heyward was listed as day-to-day, but his back in tonight's lineup, hitting in the leadoff spot.
Justin Upton extended his hitting streak to a season-high 11 games on Tuesday.
Nats OF Jayson Werth is just six hits shy of 1,000 for his career.
Nine of the 12 games between the Braves and Nationals this season have been decided by two runs or less.