Pitching Probables (photo credits to
@D_Slemp)
: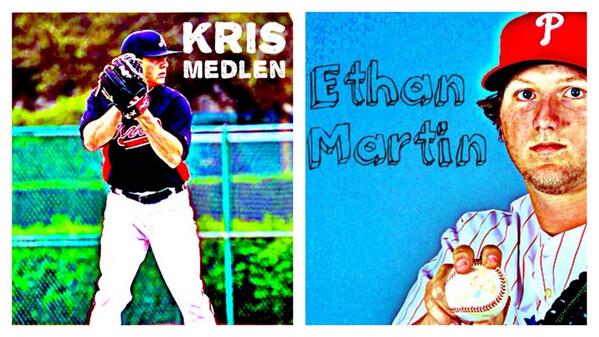 RHP Kris Medlen (ATL) 7-10, 3.74 ERA
RHP Ethan Martin (PHI) - making Major League debut
Tonight's Starting Lineups (7:05 pm ET, FS South):
Braves (2013 season stats)
Jason Heyward - CF (.232/.335/.388 10 HR 29 RBI)
Justin Upton - RF (.258/.350/.457 18 HR 53 RBI)
Freddie Freeman - 1B (.311/.390/.486 13 HR 71 RBI)
Brian McCann - C (.284/.371/.532 15 HR 42 RBI)
Chris Johnson - 3B (.346/.384/.471 6 HR 39 RBI)
Dan Uggla - 2B (.197/.313/.420 21 HR 51 RBI)
Joey Terdoslavich - LF (.303/.361/.394 0 HR 2 RBI)
Andrelton Simmons - SS (.252/.290/.375 11 HR 40 RBI)
Kris Medlen - P (.206/.250/.324 1 HR 2 RBI)
Phillies (career vs. Medlen):
Jimmy Rollins - SS (4-13, 3 2B, RBI, 2 BB, K)
Michael Young - 1B (0-4, 2 BB, 2 K)
Chase Utley - 2B (3-8, 2 RBI, BB, K)
Darin Ruf - LF (1-2, 2B, BB, K)
Delmon Young - RF (2-5, HR, 4 RBI, BB)
Cody Asche - 3B (N/A)
John Mayberry - CF (0-2, BB)
Eric Kratz - C (1-2, 2B)
Ethan Martin - P (N/A)
Preview:
Just a few weeks ago, the Phillies thought its weekend series with the Braves would be the boot they needed to make a run in the division. Instead, the Phillies sit 13 1/2 games back in the NL East. Losers of 10 of their last 11 ballgames, Phillies will try to chip away at the Braves lead as the clubs begin a three-game series in Philly.
Ethan Martin will make his Major League debut for the Phils, hoping to beat his hometown team that he grew up rooting for. Rated as the Phillies 10th best prospect (according to MLB.com), the righty is 11-5 with a 4.12 ERA in 21 starts in the Minors this season.
Meanwhile, the Braves are red-hot, winners of seven straight as Kris Medlen takes the mound with hopes of reversing his misfortunes at Citizens Bank Park. In five appearances (three starts) in Philadelphia, Medlen's ERA is an inflated 6.05, most recently allowing six earned runs in 5 1/3 innings on July 7.
Crediting his improved mechanics during his last start against the Cardinals, Medlen snapped his three-game losing streak, allowing two runs while scattering eight hits in six innings for his seventh win of the season. Before that, he had a rough July, going 1-3 with a 7.40 ERA in four starts.
BJ's first two rehab games:
In his first rehab game, Wednesday night, Braves CF BJ Upton went 0-for-3 with a strikeout. In last night's rehab start with Triple-A Gwinnett, Upton went 3-for-4 with two doubles, a single, and drove in two runs while playing only six innings. Upton is expected to play in his final rehab game tonight before joining the club in Philadelphia on Saturday.
Domonic Brown expected back next week:
While Domonic Brown missed his eighth consecutive game on Thursday due to a concussion, the Phillies left fielder plans to return to action sometime next week.
Brown sustained the concussion July 23 when he dove for a fly ball against the Cardinals. Brown has not any post-concussion syndromes and has passed every test needed to return to the field.
Brown leads the team with 24 home runs and 69 RBIs and was one of two Phillies All-Stars, alongside Cliff Lee.
Side note:
Since moving into the leadoff spot in the lineup, Braves OF Jason Heyward has gone 8-for-24 (.333) with two home runs and seven RBIs.
Phillies designated OF Steve Susdorf for assignment on Monday, but has cleared waivers and was optioned back to Triple-A Lehigh Valley yesterday.