Pitching Probables: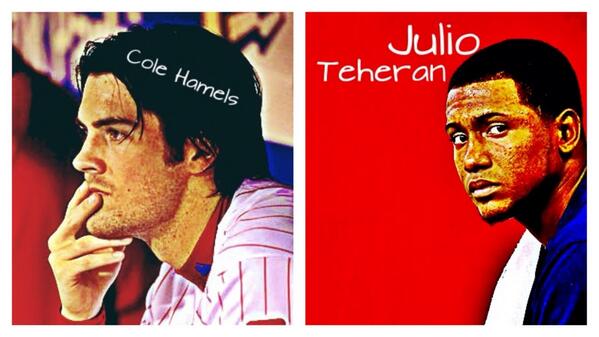 LHP Cole Hamels (PHI) 4-13, 3.81 ERA
RHP Julio Teheran (ATL) 9-5, 2.96 ERA
Tonight's Starting Lineups (7:10 pm ET, SportSouth):
Phillies (career vs. Teheran):
Jimmy Rollins - SS (2-3, HR, RBI, BB)
Michael Young - 1B (N/A)
Chase Utley - 2B (1-1)
Domonic Brown - LF (N/A)
Darin Ruf - RF (N/A)
Cody Asche - 3B (N/A)
John Mayberry Jr. - CF (N/A)
Carlos Ruiz - C (0-1)
Cole Hamels - P (N/A)
Braves (career vs. Hamels):
Jason Heyward - RF (5-23, 3 2B, 3 BB, 8 K)
Justin Upton - LF (6-18, HR, RBI, 5 K)
Freddie Freeman - 1B (8-26, 2 HR, 4 RBI, 2 BB, 10 K)
Brian McCann - C (16-57, 6 2B, 3 HR, 15 RBI, 7 BB, 9 K)
Chris Johnson - 3B (3-8, 3 K)
Dan Uggla - 2B (9-57, 2 2B, 3 HR, 6 RBI, 5 BB, 18 K)
BJ Upton - CF (1-11, BB)
Andrelton Simmons - SS (1-3, 2B)
Julio Teheran - P (N/A)
Preview:
Julio Teheran takes the mound on Monday at Turner Field with the chance to provide even further separation between the Braves and Phillies in the NL East. Teheran has no doubt been a key piece in the Braves' 14.5-game lead in the division. The 22-year-old has grown up quickly during his first full season in the Major Leagues, and the Braves couldn't be any happier.
Cracking the starting rotation out of Spring Training was not an easy task for Teheran, but the right-hander made it seem as such, going 3-1 with a 1.04 ERA in six Grapefruit League starts to earn a spot in the rotation.
However, the season began on a rough trail for Teheran, compiling a 5.08 ERA in five April starts while opponents batted .333 against him over 28 1/3 innings. Since the beginning of May, Teheran has been absolutely dominant. He posts a 2.40 ERA and 13 quality starts in 17 outings since May 9, which lowered his ERA to 2.96. He ranks third among qualified rookie MLB pitchers in ERA.
In his last start though, Teheran grabbed headlines for reasons other than his superb pitching when he hit Nationals OF Bryce Harper with a fastball in the Braves' 2-1 win on August 6. Harper was under the impression that Teheran beaned him intentionally, but the confrontation yielded no damage and Teheran escaped the inning unscathed.
Taking the mound for the struggling Phillies is left-hander Cole Hamels. After getting shutout by Stephen Strasburg and the Nationals yesterday, the Phillies have lost 11 straight road games and has not won away from Citizens Bank Park since July 19.
The Phillies' woes are in due part to their injuries. Ryan Howard (left knee inflammation) and Ben Revere (broken right foot) have been on the 15-day disabled list since July 6 and July 14, respectively. They are also without Roy Halladay, who has missed just about the entire season with right shoulder inflammation.
Charlie Manuel nearing 1,000th career win:
Phillies manager Charlie Manuel enters tonight's contest against the Braves with 999 career victories, 779 of which have come in Philadelphia. Manuel won 220 games as manager of the Indians from 2000-02. He would be the 59th manager in MLB history to eclipse the 1,000 win plateau.
Side note:
Braves OF Justin Upton left yesterday's game in the fifth inning due to cramping in his left hamstring. Upton is back in the lineup tonight and will hit second.
Braves 1B Freddie Freeman upped his RBI total to 79 with the go-ahead, three-run home run in yesterday's game, eclipsing the 76 he drove in as a rookie in 2011. His career high is 94, set last season.
Phillies middle infielders Jimmy Rollins and Chase Utley have started 1,036 games together, which is the second-most among active combinations behind Derek Jeter and Robinson Cano (1,041 games).