Pitching Probables (photo credits to @D_Slemp):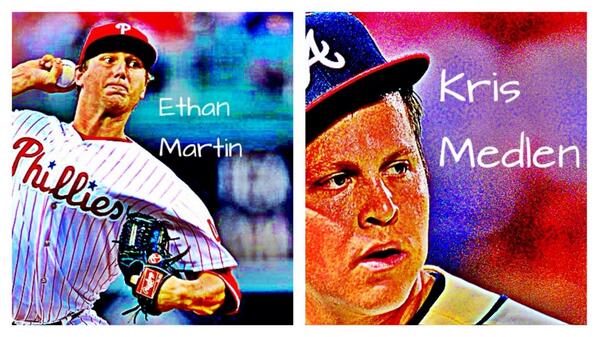 RHP Ethan Martin (PHI) 1-1, 6.75 ERA
RHP Kris Medlen (ATL) 9-10, 3.85 ERA
Tonight's Starting Lineups (7:10 pm ET, SportSouth):
Phillies (career vs. Medlen)
Jimmy Rollins - SS (4-16, 3 2B, RBI, 2 BB, 2 K)
Michael Young - 1B (0-7, 2 BB, 3 K)
Chase Utley - 2B (4-11, HR, 3 RBI, BB, K)
Domonic Brown - LF (3-6, 3B, HR, 2 RBI)
Darin Ruf - RF (2-4, 2B, HR, RBI, 2 BB, 2 K)
Cody Asche - 3B (0-3, RBI, K)
Casper Wells - CF (N/A)
Erik Kratz - C (2-4, 2B)
Ethan Martin - P (N/A)
Braves (career vs. Martin):
Jason Heyward - RF (2-3, 2B, RBI)
Justin Upton - LF (1-3, RBI, 2 K)
Freddie Freeman - 1B (1-3)
Brian McCann - C (2-3, HR, 2 RBI, K)
Chris Johnson - 3B (1-3, HR, RBI, K)
Tyler Pastornicky - 2B (N/A)
Jordan Schafer - CF (N/A)
Andrelton Simmons - SS (0-1, BB)
Kris Medlen - P (N/A)
Preview:
A cavernous gap separates the Braves from the rest of the National League East. That however, did not deter the Phillies on Monday, who claimed the series opener at Turner Field behind Cole Hamels' gem and look to take the series tonight in game two of the three-game set.
Braves boast baseball's best record at 72-47, thanks in part to the recent 14-game winning streak. The Phillies sit a distant 18 1/2 games out of first place.
Tonight, the Phillies will hand the ball to young right-hander, Ethan Martin, who earned his first big league win in his last start, when he held the Cubs to one run on four hits over five solid innings pitched. Braves will counter with Kris Medlen, who has won each of his last three starts.
Last Wednesday, Medlen held the Nationals to three runs on three hits over seven innings to lead the Braves to a 6-3 victory. Medlen cited his curveball as the contributing factor to his recent success.
Uggla to the DL, Pastornicky called up:
Braves announced today that the club has placed second basemen Dan Uggla on the 15-day disabled list due to lasik surgery. The club wanted Uggla to undergo the surgery back in Spring Training. He has been in major slump of late, has two hits in his last 41 at-bats with no home runs and two RBIs. INF Tyler Pastornicky was called up in the corresponding move and will play second while Uggla is on the disabled list.
Roy Halladay close to returning:
Veteran right-hander Roy Halladay is set to make his first rehab start on Thursday with the rookie-level Gulf Coast League Phillies. General manager Ruben Amaro stated that Halladay could rejoin the rotation sometime this month, depending on how Halladay feels. Doc went 2-4 with a 8.65 ERA in seven starts before undergoing surgery on his pitching shoulder.
Side note:
Braves LF Justin Upton went 1-for-4 last night after exiting Sunday's game in the fifth inning with cramping in his left hamstring. Catcher Brian McCann also went 1-for-4 after missing two previous games due to a sore knee.
With last night's 5-1 win over the Braves, Phillies manager Charlie Manuel won his 1,000th game as a manager.
Braves are a Major League-best 40-17 at home this season.
Braves OF Jason Heyward has been red-hot since being inserted into the leadoff spot, hitting .361.